Bathroom Renovations
Bathroom renovations in apartments can be a challenge particularly if you want to change locations.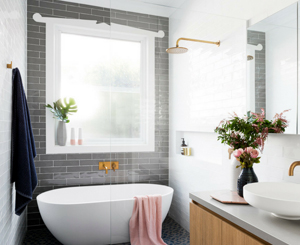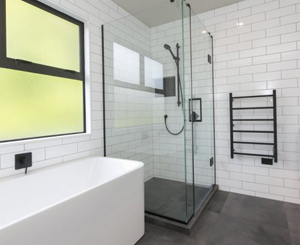 And the reason it is a challenge is because your options can be limited. In most instances people live above and /or below. Each apartment is typical – the one above or below has the same layout – kitchens above kitchens and bathrooms above bathrooms – unless you live on the ground floor which gives you greater flexibility.
Otherwise, if you do want to change the drainage layout from below, and you're lucky enough to have an agreeable neighbour willing to grant you access to their apartment, you shouldn't have a drama. However, major drainage work such as moving the toilet could be particularly challenging. Consult your builder/plumber if in doubt.
Getting Started
To start, look at your existing bathroom and ask your self why? Is it old and tired, do I want to install a washing machine, can I gain more space if I remove the bath tub? List features you've always wanted. Group them according to must-haves and nice to-haves. Tour model homes and showrooms, and scan magazines and websites to gather inspiration.
2. Establish a budget.
Whether you want to gut your bathroom and start from scratch, or just make cosmetic changes, it's important to know how much you want to spend before you start. Then be firm to avoid costly variations.
3. Call an expert
Even if you're planning a small-scale makeover or tackling some of the renovating yourself,  consult the professionals first.
Plumbers, tilers, demolishers and electricians should be consulted if your renovation is a small scale affair. They do know the cost to do the work, however they will be reliant upon you to issue instructions if you do co-ordinate them in the process.
The Builder on the other hand can help you avoid costly mistakes. They coordinate trades, supplies and building products to ensure a seamless flow of trades and materials on site. They will co-ordinate all the trades and take away the stress that results from dealing with individual trades people.
4.Tips for saving money
Whatever the size of your bathroom, working within a room's existing footprint will always save you money – minimal moves with minimal trade involvement means minimal costs. However, if electrical, and particularly plumbing systems are outdated, it can be cheaper in the long run to gut the room and start from scratch.
Invest in items that can't be changed easily. Floor and wall tiling, the bath tub, and the shower recess really are the core of the renovation so they need a weighted consideration. Good lighting, vanity units and storage on the other hand can be replaced so they are not so critical in the overall decision making process. And keep some spare tiles on completion as you never know when they might be needed.
5. Make smart choices.
If you are planning to stay in your home for less than five years then design with resale in mind.
If you are planning to stay longer, design the bathroom for your own enjoyment. Have those hot pink flamingo tiles laid and install that custom made sculptured marble bath tub – with under lip lighting. It's there for you to enjoy and why not.
However a word of caution, there is no guarantee ten or fifteen years down the track the bathroom renovation you've enjoyed for so long will be a big selling point as styles do change and furnishings do date.